I planned to obey all of the laws when I attended the protest today, but with the recent arrests of activists, I planned for the worst. Like many others, I wrote the phone number of ACLU lawyers on my arm before the protest began.
The protest was a solemn reminder of the consequences of 8 years of a Bush administration and an insight into what a McCain presidency would bring. It was a moving protest.
An area was set up on the Capitol grounds in St Paul that displayed the boots of fallen soldiers.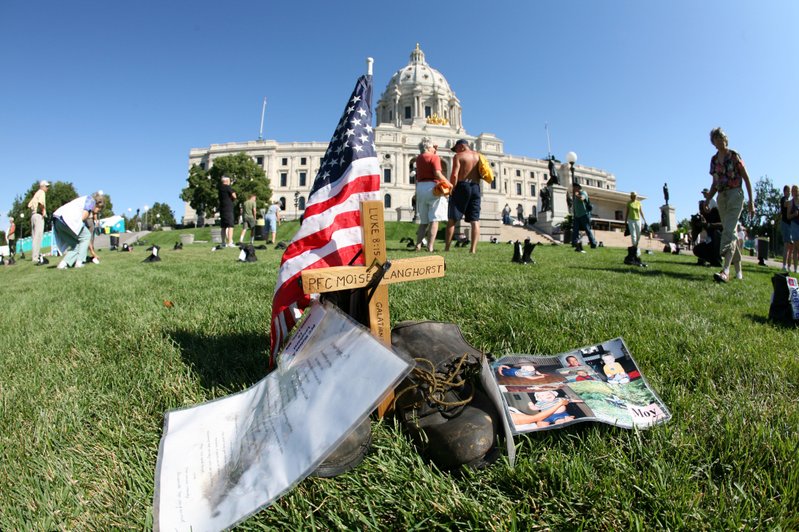 A few parents who had lost children in US wars were present.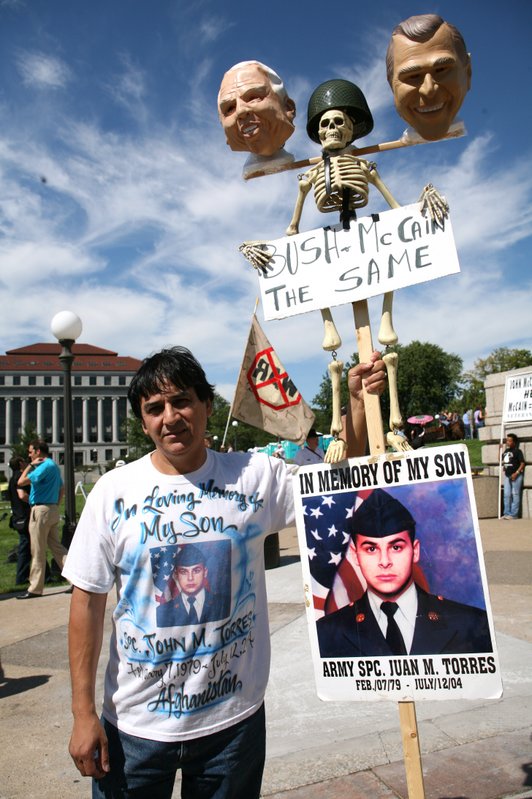 The parents of one fallen soldier rolled a coffin into the area displaying the pairs of boots. A flag was displayed from the back of the coffin.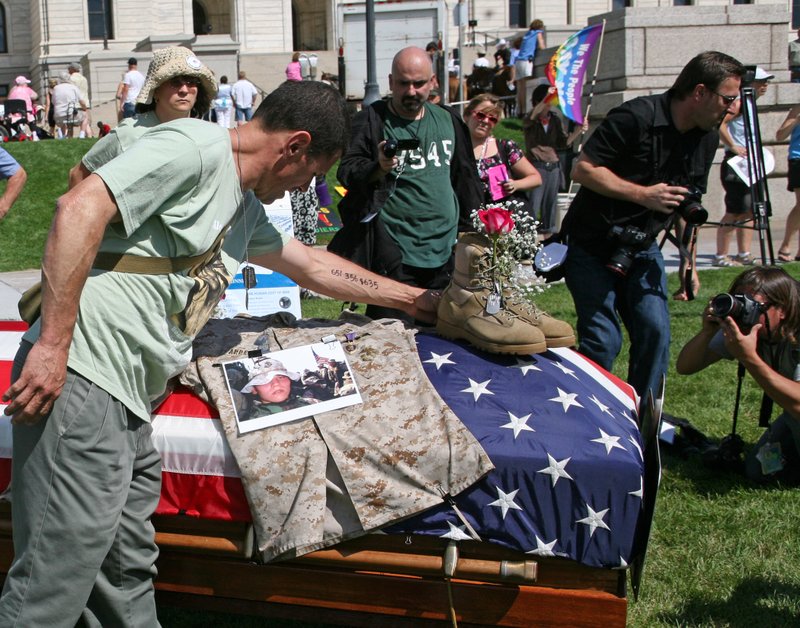 The father had the same phone number written on his arm that I had written earlier; his child Alex was also born the same year as my first born: 1984.
He grabbed a cross from the top of the coffin and placed it in the ground.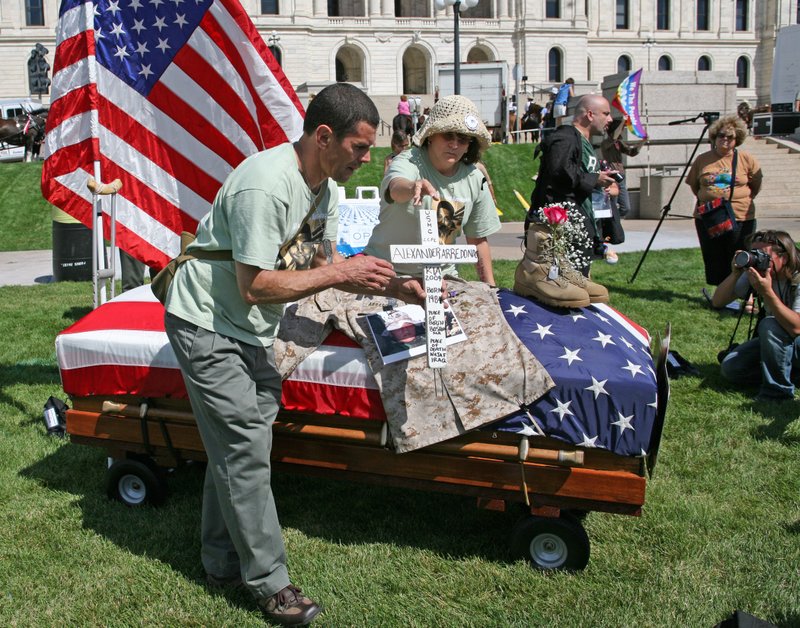 Next, he offered me a copy of the first letter his son wrote home after leaving for Iraq.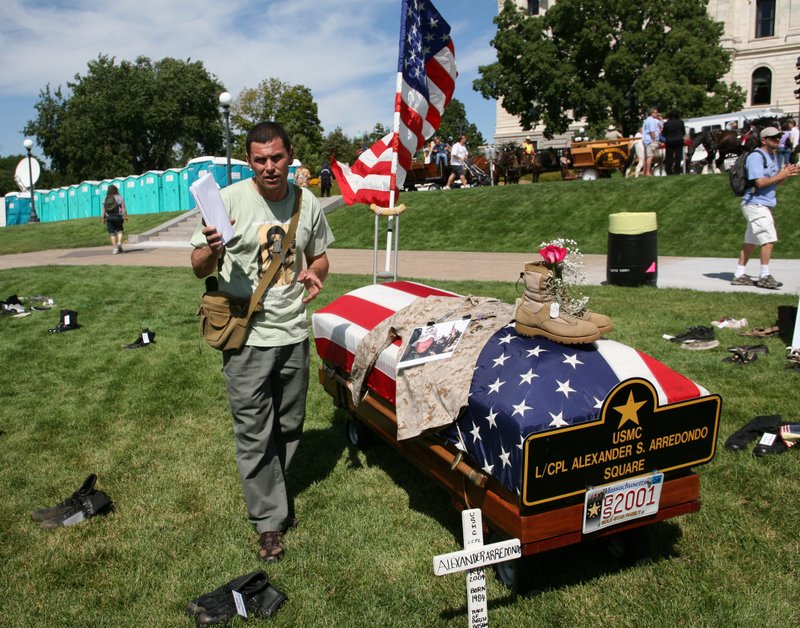 I will post the letter at the end of this diary.
The veterans at the beginning of the march had a hard time organizing.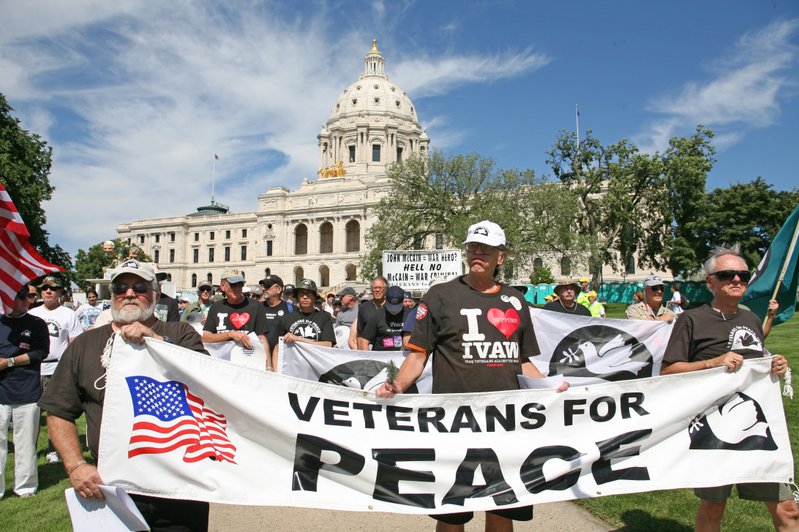 John McCain had something to say about that!
A number of participants wore orange jumpsuits representing the torture policy of the GW Bush administration. Others carried small, symbolic tombstones to signify persons who have died during the recent wars.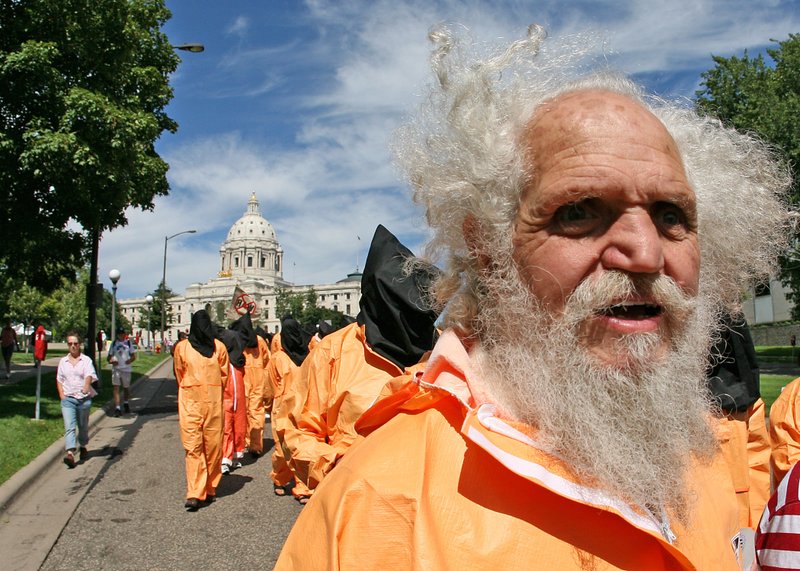 I happened to catch the jumpsuit caravan right when they walked in front of a scrolling news display on MPR's building.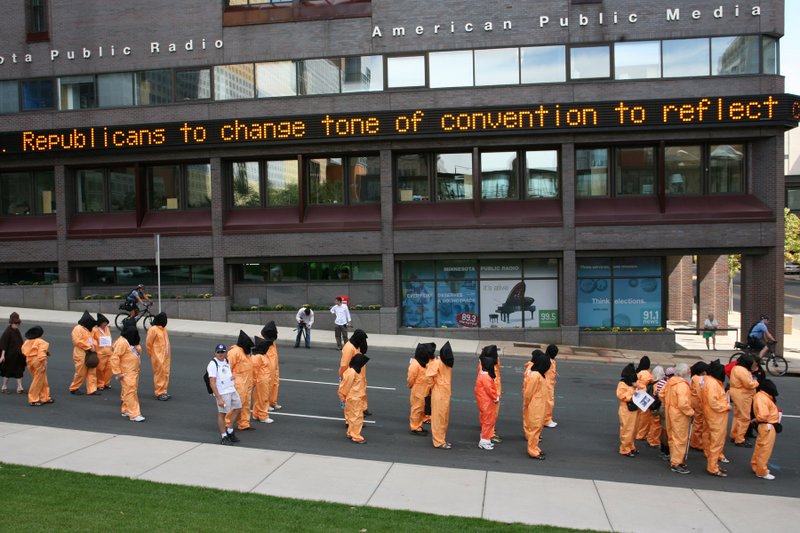 Roger would be disappointed if I didn't show the torture sign he made. This image also shows the potential for endless wars under a McCain administration.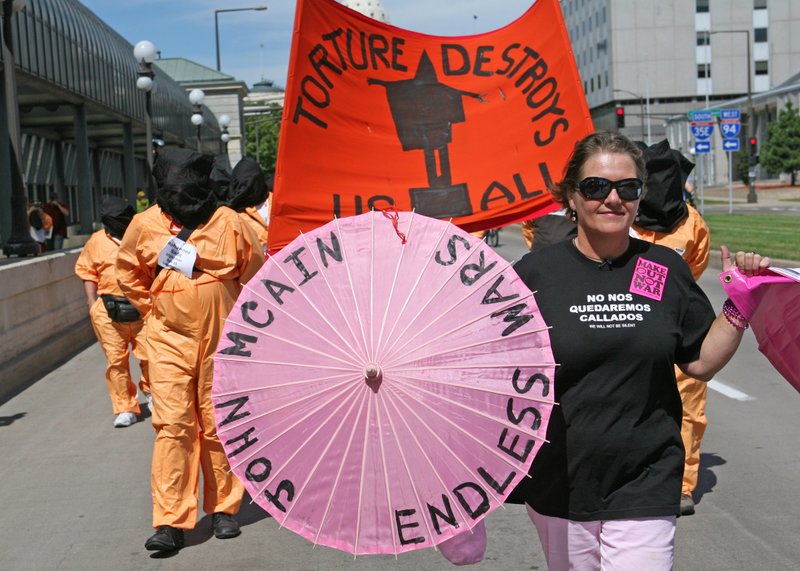 Who knows how many persons would die with continued wars. We know that a million of more Iraqis have died and the number of US soldiers, while much smaller, is nonetheless painful. Especially given that the Iraq war was optional.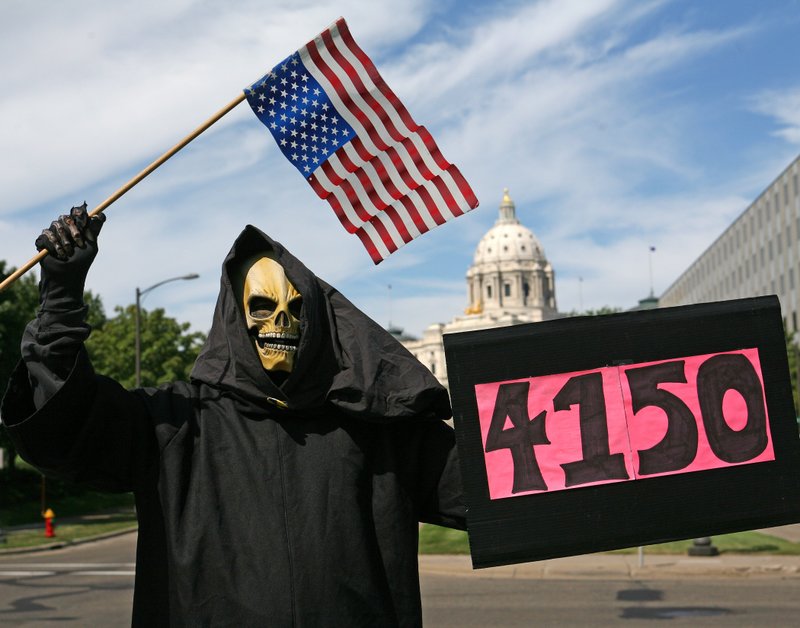 And we all know we can't count on the media to deliver an honest message.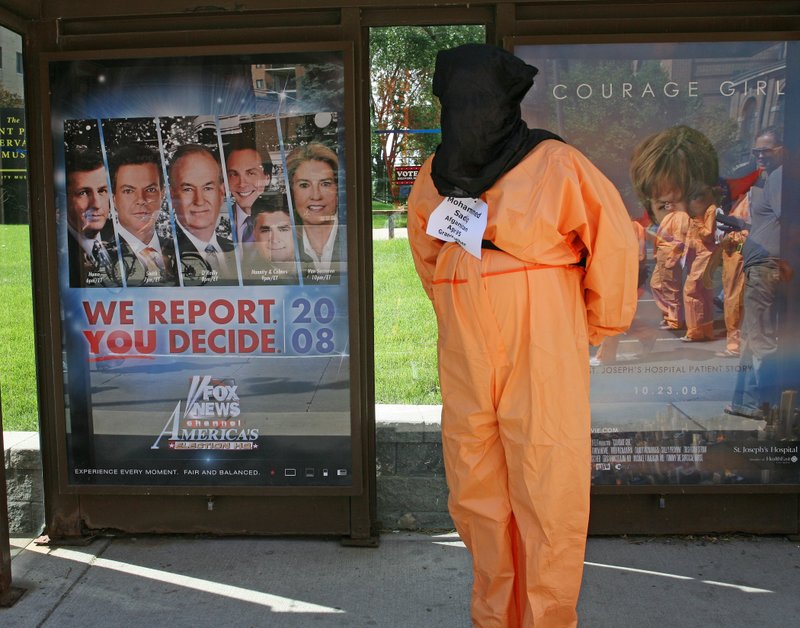 Letter from Alex Arredondo to his parents:
Dear Mom and Dad,
Today is Sunday, January 19th, 2003. I've been out at sea for three days now and I'm starting to feel better. The first two days, I was completely sick from seasickness and some virus. So far, everyday I come outside the skin of the ship and write letters, whale watch (which isn't that great because I haven't seen any, but there are plenty of dolphins that swim along side the ship), watch the horizon and sunset, etc. This seems so unreal to me. I've never seen water this blue before, I've never looked 360 degree around and seen nothing but water, clouds, the sun, and a fleet of battleships surrounding me. Tomorrow is one of my many, many training days on the ship to prepare me for my mission. I will also be training a short time in Kuwait. This is hard for me to comprehend. It seems like my whole life changed in an instant. Yesterday, I was in a classroom learning about trigonometry and history. I graduated, went to boot camp, went to school, graduated as a grunt. I was sent across the country to train. Now I'm being sent across the world to fight. Today I am in a classroom learning about TACTICAL URBAN COMBAT and NUCLEAR, BOLOGICAL, and CHEMICAL WARFARE, in the middle of the Pacific Ocean, on my way to experience firsthand what I am learning about. I am not afraid of dying. I am more afraid of what will happen to all of the ones that I love if something happens to me. Soon enough, I will be in the desert, outside the city of Baghdad in full combat gear ready to carry out my mission. Wondering how this all happened so fast, wishing I was back home going to school, dating Sheila, taking care of my family. Although I think this way now I am almost certain that if I didn't walk this path I would be wondering to myself why I didn't walk the path of a proud warrior, a marine. Just because I wonder "what if" doesn't mean I'm not proud. It doesn't mean I feel like I made the wrong decision. It doesn't mean I have any regrets. I'm still proud to be fighting for my country. I feel like if I am not helping one way I should still do all I can to help (OPERATION ENDURING FREEDOM). I'm on a time back now. I need to send this letter in the next hour for it to get to you by Tuesday or Wednesday. I love you both very much and wish I could keep writing but I have to go. Love you,
PFC. ARREDONDO/ UNITED STATES MARINE CORPS
His father was so upset upon learning of the death that he climbed into a Marine Corps van and set fire to the vehicle, seriously burning himself. "This is his scream that his child is dead. The war needs to stop," said Melida Arredondo, the fallen Marine's stepmother. She said Alex joined the Marines at the age of 17 to help pay for college. He was in his second tour of duty in Iraq. When he called home hours before his death, he sounded upbeat. "He was ready," Foley (his mother) said. "He was ready to fight that night. He knew it was going to get rough."