I did a Google image search of Lead toys and recalled toys. More than 400,000 images were found. The collage below contains a few of them that I selected for this short rant. Nothing I have to say in it is particularly new, but I feel better now that I have written it. I'm a parent of 3 children, and the thought that the toys I buy for my kids would somehow poison them scares the hell out of me. It makes me angry, too, to know that my government is complicit in endangering our children.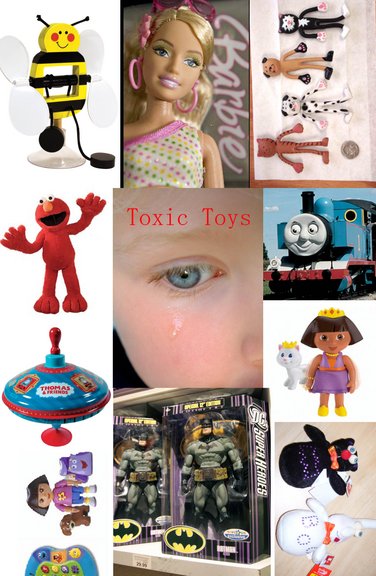 The Republican Party sells family values in its advertisements, but they push corporate values as legislators. A major thrust of republican efforts is to reduce the role of government in corporate affairs or, as Grover Norquist says "to drown government in the bathtub."
For Republicans, the Consumer Product Safety Commission, the agency charged with protecting citizens "against unreasonable risks of injuries associated with consumer products", is an impediment to free trade. Consistent with this idea, Bush appointed Nancy Nord, a former Kodak executive, to head the agency. Nord has opposed legislation that would empower her agency, as virus head points out:
In two different letters, Nancy Nord has asked lawmakers not to approve legislation that would increase the agency's authority, double its budget and increase its ever more pathetic staff. She opposes increasing the maximum penalties for safety violations. She opposes making it easier for the government to make public reports of faulty products. She opposed protecting industry whistle-blowers. And of course she opposes prosecuting executives of companies that willfully violate laws.
It's not like her agency is overstaffed. You know that mythological character named Santa Claus who makes toys for everyone in the world? How old were you when you questioned the possibility that one man, even with helpers, could deliver toys to everyone in the world? 6 years old? 7 years old? Well, do you believe that the one full-time toy tester in the Consumer Products Safety Commission can assess the safety of all of the toys sold in the US?
The agency has suffered from a steady decline in its budget and staffing in recent years. Its staff numbers about 420, about half its size in the 1980s. It has only one full-time employee to test toys. And 15 inspectors are assigned to police all imports of consumer products under the agency's supervision, a marketplace that last year was valued at $614 billion.
The Bush administration's pro business policies increase the risk to children in multiple ways.
The Bush administration has hindered regulation on two fronts, consumer advocates say. It stalled efforts to press for greater inspections of imported children's products, and it altered the focus of the Consumer Product Safety Commission (CPSC), moving it from aggressive protection of consumers to a more manufacturer-friendly approach.
But the problem isn't the poisons in the toys; it's just a labeling problem.
But in a March 12 filing, China was the only one of 48 interested parties to tell the panel that it opposed new restrictions on lead paint in children's jewelry. Guo LiSheng, the deputy director of a Chinese global trade agency, warned against "unnecessary obstacles to trade" and advocated international rules that allow some lead content. He added that good product labeling was sufficient.
See this cute snowman (courtesy of Soros on DailyKos)
He comes with a dire warning. Watch out pooty!
I was in touch with Nonnie999 from Hyterical Raisins and he said I could post this cool retro album cover that is a takeoff of one by the group Jethro Tull (Ian Anderson):


Thanks Nonnie!