Memorial Day was just like many of the previous ones except this year there are many more new participants crying for loved ones who were killed in war.
I attended the Vets for Peace ceremony at the Capitol in St. Paul. It was held at 10 am this year, an hour later than usual. I don't know if the larger crowd this year resulted from the later time or a greater disappointment with the Iraq occupation.
I arrived early and paid my respects to war victims, including a shipmate, at the Vietnam memorial. I saw vets show up from WW II, Gulf War I, and of course the Vietnam war: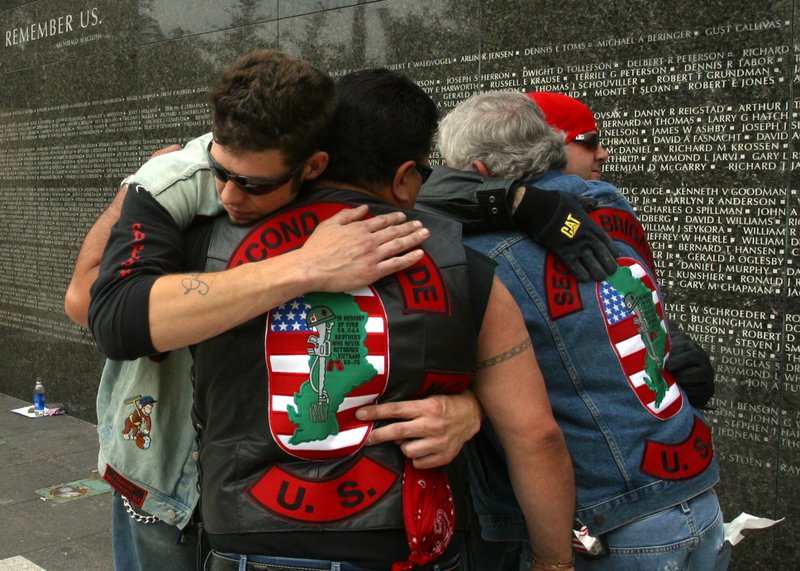 US born persons are not the only ones who mourn dead from our wars. A large group of Laotian veterans were also on the Capitol lawn. I can imagine Iraqis having these ceremonies as well. How many Iraqis have died as a result of the US attack on their nation? 600,000?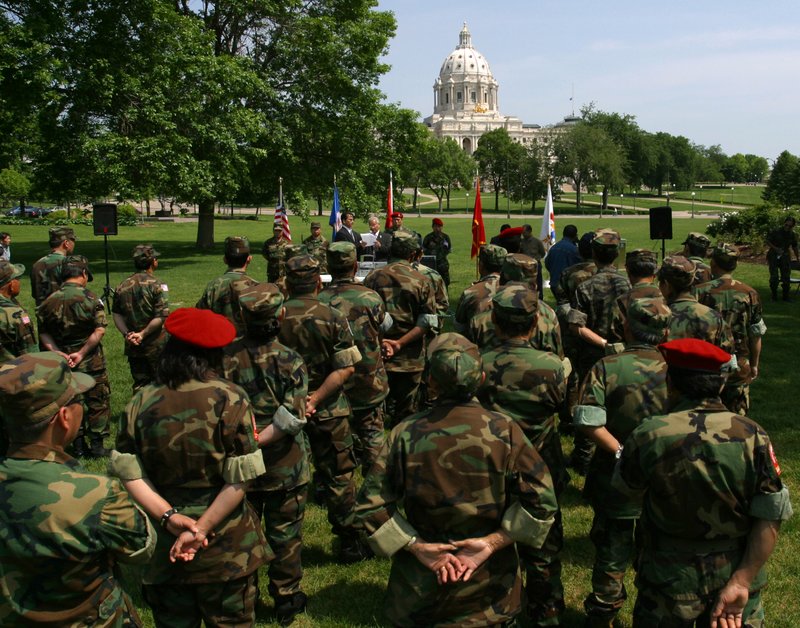 The vets for peace ceremony began with the reading of a poem by the late Archibald Macleish. This is appropriate because a line from his poem - we were young, we have died, remember us - marks the top of the memorial wall that lists the names of the fallen Minnesotans from the Vietnam war.
THE YOUNG DEAD SOLDIERS

for lieutenant Richard Meyers
The Young dead soldiers do not speak.
Nevertheless, they are heard in the still houses: who has not heard them?
They have a silence that speaks for them at night and when the clock counts.
They say: We were young. We have died. Remember us.
They say: We have done what we could but until it is finished it is not done.
They say: We have given our lives but until it is finished no one can know what our lives
gave.
They say: Our deaths are not ours; they are yours; they will mean what you make them.
They say: Whether our lives and our deaths were for peace and a new hope or for
nothing we cannot say; it is you who must say this.
They say: We leave you our deaths. Give them their meaning.
We were young, they say. We have died. Remember us.

There is typically not an organized program for this service. It provides an opportunity for vets and, for that matter, anyone in attendance, to share their feelings.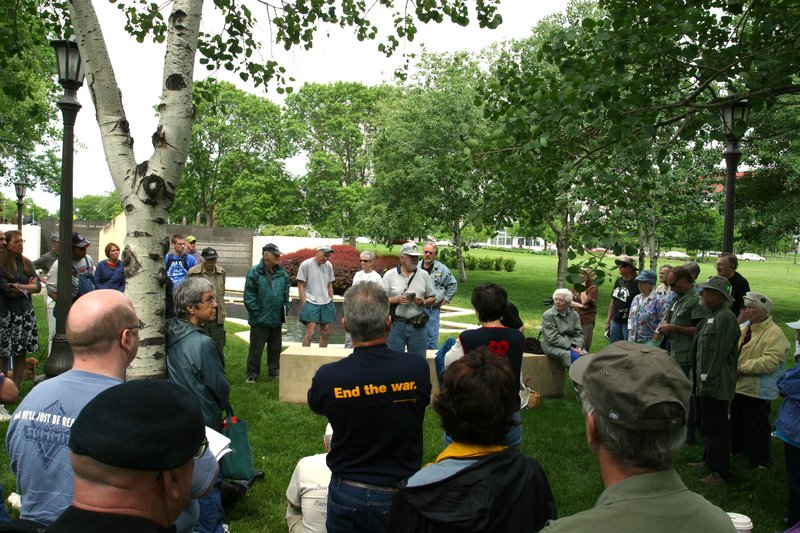 After the poem was read, a veteran said that he supported providing better care for returning veterans, and was interested in promoting peace so that our young wouldn't have to pay such a dear price. Another vet spoke up and said that we need to urge our legislators to end the war. He encouraged all of us to look closely at the Vietnam memorial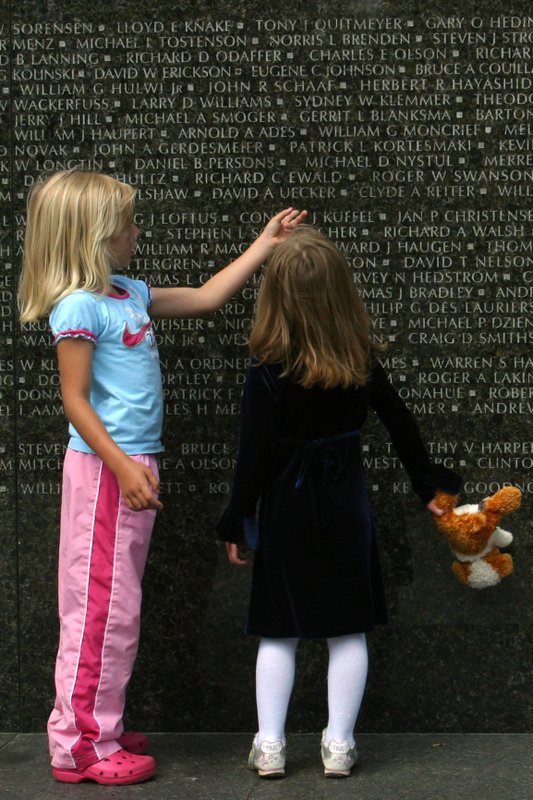 and to note how many of the names occur after 1968, the year Nixon was elected to end Johnson's war. The war continued for another 7 years. We have an identical situation today with the election of a democratic majority in the congress and senate with a mandate to end the iraq occupation. It has been 6 months since that election and US legislators just gave President Bush another blank check to continue the Iraqi occupation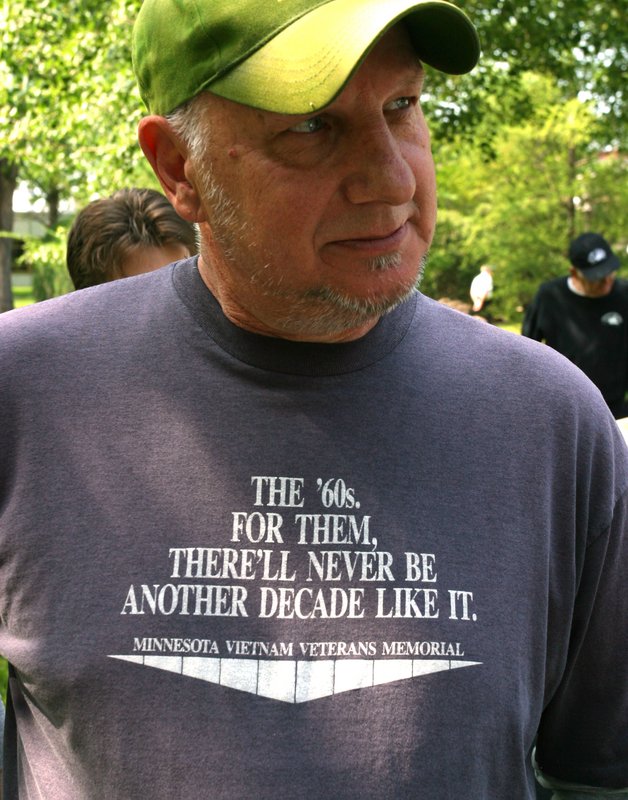 One person (not pictured) who was present disagreed with those sentiments. He addressed the group by saying that those men are dying over there so that people like you can stand up on your soapbox and say this bullshit. He didn't wait around for any responses to his statement. Instead, he walked away.
Marv Davidov, a long time Minnesota activist, said that people like that always talk about freedom of speech, but they don't want anyone to say anything. We know this is true. Persons critical of Bush's policy are treated as traitors. Acitivits who have argued that the Iraq war is misguided and immoral whose children have died in Iraq, such as Cindy Sheehan and Andrew Bacevich, have received letters blaming them for their child's death. They are accused of giving comfort to the enemy.
My response to the person who called our event "Bullshit" is to quote Reagan. I didn't agree with Ronald Reagan's policies and I thought his presidency was a failure, but he is venerated by the Republican party. Maybe they should read and follow what he said in his speeches. If they did, they would discover that it is they who are acting unamerican. For instance,
The defense policy of the United States is based on a simple premise: The United States does not start fights. We will never be an aggressor.
History teaches that war begins when governments believe the price of aggression is cheap.
..no mother would ever willingly sacrifice her sons for territorial gain, for economic advantage, for ideology.
A people free to choose will always choose peace.
Peace is not absence of conflict, it is the ability to handle conflict by peaceful means.
I'm a Vietnam vet and it has been a big disappointment that our nation has forgotten the lessons learned in Vietnam. I think it's the greed and opportunity for corporations to make money that blind and motivate the nation's leaders,democrats and Republicans, to promote and prolong war. As Bob Dylan sang in Masters of war:
Like Judas of old
You lie and decieve
A world war can be won
You want me to believe
But I see through your eyes
And I see through your brain
Like I see through the water that runs down my drain
You fasten the triggers
For the others to fire
Then you set back and watch
When the death count gets higher
You hide in your mansion
As young people's blood
Flows out of their bodies
And is buried in the mud
So as I mourn my peers who died in war, I also urge us to use this occasion to stop the Iraq war so that the tragedy isn't compounded.

And let's hope that we won't hear anymore justification for the slaughter in Iraq because of September 11th.
I connect with Green Day's lyrics from this song from their album titled American Idiot:
"Wake Me Up When September Ends"

Summer has come and passed
The innocent can never last
wake me up when september ends


like my fathers come to pass
seven years has gone so fast
wake me up when september ends