On April 28 th, 75 people participated in one of many protests around the country that called for President Bush and his administration to be impeached. The event was sponsored by Impeachforpeace.org.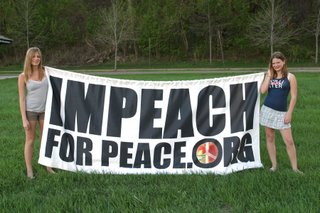 The protest was held on the west bank of the Mississippi River at the base of the Washington Ave Bridge next to the University of Minnesota Campus. A protest statement was made by forming bed sheets into letters that spelled out the word "impeach." The letters were formed at dusk, and after the sun set the participants held flashlights under each letter as it was lifted into the air. I photographed each one from the Washington Ave bridge and someone made a composite photo from the separate ones. Here it is: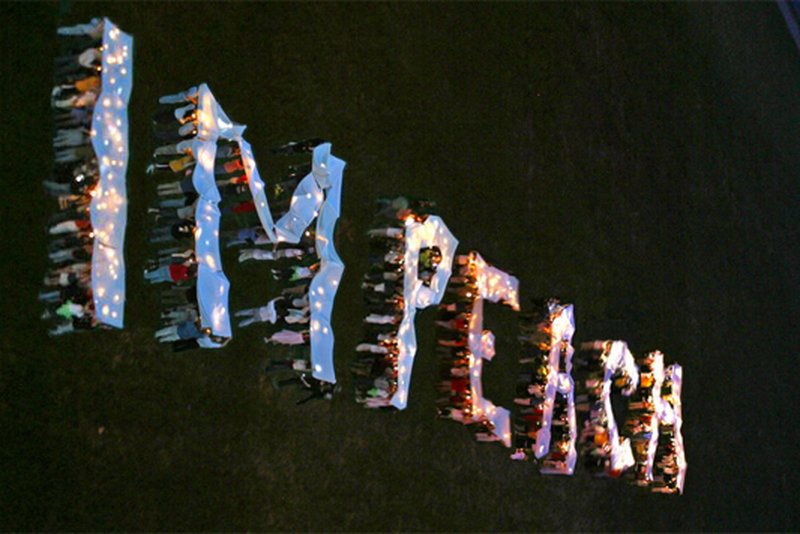 The protest might be considered a derivative of the bed-in event by John Lennon and Yoko Ono during the Vietnam war in 1969. From the Wikipedia:

Knowing their March 20, 1969 marriage would be a huge press event, John and Yoko decided to use the publicity to promote world peace.

They spent their honeymoon in Room 902 at the Amsterdam Hilton Hotel for a week between March 25 and March 31 and invited the world's press into their hotel room every day between 9 a.m. and 9 p.m. After their other stunts, such as the naked cover of the Two Virgins album, the press were expecting them to be having sex, but instead John and Yoko were sitting in bed talking about peace with signs over their bed reading "Hair Peace" and "Bed Peace". After seven days, they flew to Vienna, Austria, where they held a press conference while eating chocolate cake while they were inside a white bag, a promotion for Bagism, another of their concepts which called for social change….. Their peace campaign was met mostly with derision, and most journalists simply dismissed it as a publicity stunt. Lennon, who was accused of doing this for money or attention, countered by saying that he could write a song in an hour and make more money than he could spending seven days in bed talking about peace.

These impeachment events are occurring around the country. Little, by little, the nation is getting the idea that this president should be impeached for incompetence and lies. The first MBA president claimed he wanted to run the nation like a business; unfortunately, he bankrupt it monetarily and morally. His idea of business is cronyism. The cost is death at home and abroad. The corporate media should poll the nation periodically to determine what proportion of the population agrees with the idea of pursuing impeachment. Maybe when the numbers reach 70% or more, as they have with the national desire to end the Iraq occupation, legislators will discover their backbones.