UPDATE: CASE DISMISSED (the prepared statement is below)
This morning, the prosecution introduced a motion to have the boat protest case dismissed, which we happily accepted. So, the case against us on the misdemeanor charge of "creating a public nuisance on watercraft" has been dismissed. Judge Thor Anderson did twice lecture us on the danger to ourselves of violating a secret service perimeter, but ended up his lecture by saying, "Case dismissed". We are, of course, delighted. We are very thankful to our volunteer attorney, Ken Gleason, for his brilliance in pointing out and exploiting the weaknesses in the prosecutions's case. Thanks, too, to the many, many people who took time out from their busy days to attend some of the trial proceedings and for helping us in many other ways, including helping get the word out. The prosecution informed us that they may or may not bring new charges against us accusing us of something having to do with violating the perimeter set up for the safety of Vice President Cheney. We are not going to worry about that at this time. We are just celebrating the good turn of events. Thanks, again to all of you who stood tall with us for peace and justice. Roger Cuthbertson (and Bob Heberle), defendants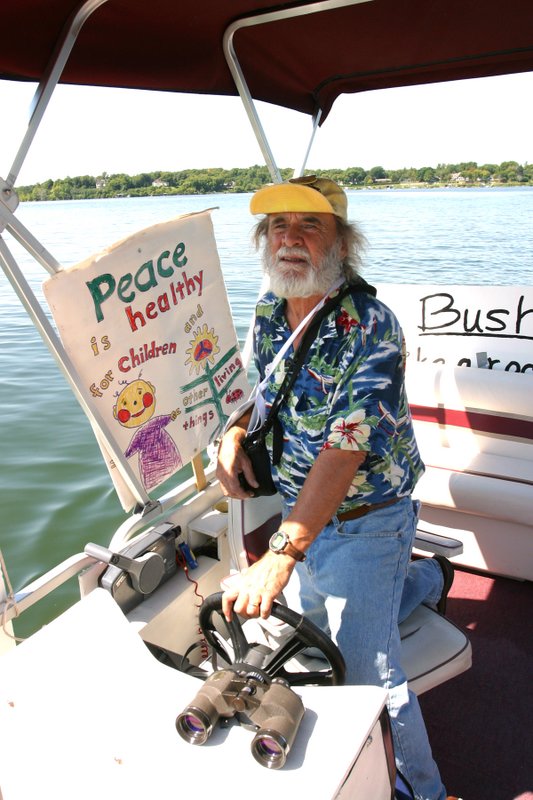 WHY WE CHOSE TO HAVE A PROTEST ON LAKE MINNETONKA
On June 26, 2006, Vice President Cheney was scheduled to appear at an invitation-only $250/guest fundraising party for Michele Bachmann, who is a candidate for Congress. There were no other meetings scheduled for Dick Cheney with the public or the press on that day. We wanted to voice our opposition to some policies being promoted by the Vice President. As we saw it, the best chance for us to possibly have our voices heard was to be on boats on the lake near where the party was to be held. Our copy of the Lake Minnetonka Conservation District Regulations of Watercraft (chapter 3) indicated that we could legally cruise within 150 feet of the shoreline, as long as our speed was 5 mph or less and as long as we left no wake. (Our reading of the rules indicated that we were allowed to be 300 feet from shore at full throttle.)
OUR CONSTITUTION PROTECTS PROTEST ON LAND OR WATER
We had every reason to believe that our constitutional rights to freedom of speech, freedom of assembly, and freedom to petition the government for redress of grievances would be as valid on water as on land.
WHAT WAS THE POINT OF OUR PROTEST OF CHENEY?
We wanted to speak to Dick Cheney about our objections to the ruinous policies of the current administration. We wanted to strenuously object to the illegal, immoral, and unnecessary Iraq war. In the months before the invasion of Iraq, it was the Vice President, Dick Cheney more than any other of the top leaders who pushed for the war. Dick Cheney said that there were weapons of mass destruction in Iraq, and the means to deliver them. This proved to be false. He even went so far as to say that Saddam Hussein had nuclear weapons. This was false. He told the American people there was a connection between Saddam Hussein and Al-Qaida. This proved to be false. He insinuated that Iraq was somehow behind the attacks of 9/11, which it was not. He told us that when we invaded Iraq, we would be welcomed as liberators. Now we have over 2,700 dead, and the Iraqi toll is over 100,000. Some welcome!
WE HAVE NO MORAL CHOICE BUT TO PEACEFULLY RESIST WAR CRIMES BY OUR GOVERNMENT WITH ALL OUR MEANS
The carnage that the U.S. invasion and occupation of Iraq has caused is staggering. It is beyond words to describe. In first Article of the United Nations Charter, the very purpose of the United Nations is…. "to take effective collective measures for the prevention and removal of threats to the peace, and for the suppression of acts of aggression…" On the subject of an aggressive war, Associate United States Court Justice Robert Jackson, acting as chief prosecutor at the Nuremberg Tribunal, in his report to the State Department wrote: "No political or economic situation can justify the crime of aggression." He also said: "If certain acts in violation of treaties are crimes, they are crimes whether the United States does them or whether Germany does them, and we are not prepared to lay down a rule of criminal conduct against others which we would not be willing to have invoked against us." An aggressive war is mass murder. In my view, an unjust and illegal war such as our war in Iraq requires action by those in a position to do something about it, just as being witness to a single murder requires action.
LEGALLY WE MUST RESIST AN UNJUST WAR
If we don't do something to stop this illegal and outrageous Iraq war, we are complicit in war crimes. Principle VII of the Nuremberg Principles says, "Complicity in the commission of a crime against peace, a war crime, or a crime against humanity as set forth in Principle VI is a crime under international law".
WHAT WE WANTED IN OUR PROTEST
Our main message to the Vice President on that day when we were arrested was: We want an immediate end to the war. We want our troops to be sent home, now. We want an end to the outrageous and criminal ways that the Iraq war has been pursued, including the torture and mistreatment of prisoners, the wanton destruction of the country of Iraq, the senseless slaughter of civilians by terrible weapons that do not distinguish between civilians and combatants (in violation of the Geneva Conventions), and the imprisoning of thousands of people for years without trials, without even elemental due process.
THE PURSUIT OF UNJUST WAR HAS RESULTED IN REPRESSION
As the Iraq war has been pursued, in the face of public outcry, lies and secrecy have been used to deflect criticism. Repressive policies have been used (predictably) to silence the opposition. So we have seen our basic rights being very much diminished and, possibly lost forever. We are no longer free from warrant-less search and seizure. The recent passage of the War Commissions Act of 2006 has legitimized certain practices which have previously been out of bounds, such as very harsh treatment of prisoners and the use of coerced confessions, the use of hearsay evidence, the denial of the right of defendants to see the evidence against them. Incredibly, what is probably the most important right of all, the right of writ of habeas corpus, as it pertains to aliens, has been enacted out of existence by Congress. And by the same act of Congress, the right of writ of habeas corpus is very much threatened as it applies to citizens of the U.S. – all this, because the country is on a war footing where liberty is freely given up for security and for short term advantage.
WHO PROFITS? WHO PAYS?
There are other issues that we have with the Vice President. One is that we dislike the war profiteering no-bid cost plus contracts of corporations such as Haliburton (where Dick Cheney was CEO just before becoming Vice President). Meanwhile, we citizens pay for the war with our lives and our dollars. Furthermore, we don't think our nation can afford military spending to the tune of $1 billion a day, to be paid for by our children, who will have to pay the record debts that are being accrued.
THERE WAS A PUBLIC NUISANCE ON THE LAKE. IT WASN'T US.
We are charged with creating a public nuisance on Lake Minnetonka. We agree there was a big public nuisance in the Lake Minnetonka area on June 26, but it wasn't us. Ask the drivers on their way home from work that day, who got caught in a very long traffic jam, because of the Cheney motorcade, who was a big nuisance? Ask the tax payers of the Lake Minnetonka communities that paid for more than 60 officers and reservists from 15 different agencies that provided security for Cheney's visit who was a big nuisance on that day. Is being a war criminal being a big nuisance? I think so.
I AGREE WITH HENRY DAVID THOREAU.
What are we to do when the agents of government who are responsible for enforcing the law wantonly break the law? You can't just call the police. "They" are the police. David Henry Thoreau wrote a famous book called Civil Disobedience (Published in 1849) around the time that the United States started a totally unjust land-grabbing war against Mexico. Thoreau opposed the war by acts of non-violent civil disobedience. When he got put in jail for his acts of civil disobedience he said, "In times like these, all good citizens should be in jail." These are my sentiments for these times, as well. Every good citizen should be in jail, including me! Not for violent actions, but for opposing violence by blockading the war machine with everything we have, including our bodies. We must not just be in favor of peace. We must wage peace.
Roger Cuthbertson