It's not surprising that bass fishermen are against Bush. Just about everyone is nowadays. Bush's approval ratings hover between 32 and 40 percent so the list of people against Bush includes nearly everyone except the religious right and influence peddlers who want to use the government to expand their fortunes at the taxpayers' expense (and the nation's future). This diary is about those remaining Bush supporters and a protest against them on Lake Minnetonka last week to expose their agenda.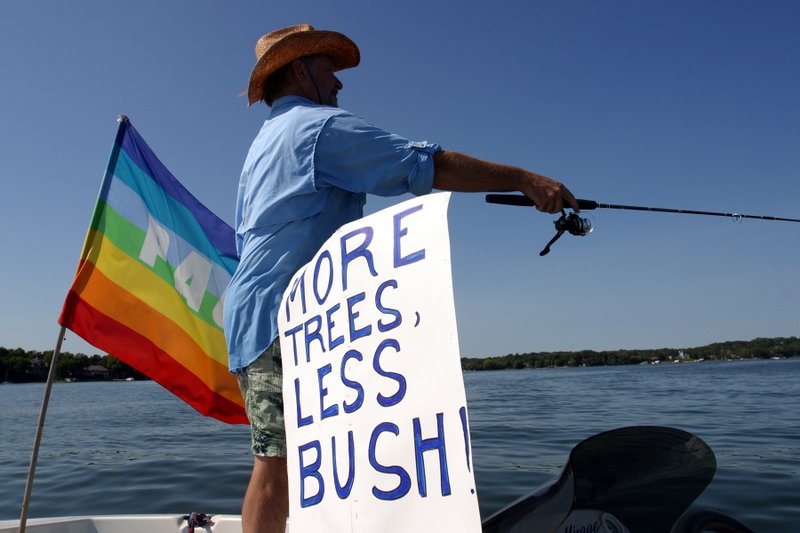 Bass fishermen, sail boaters, grandmothers, and soccer moms were on Lake Minnetonka last week to protest Bush's visit to Minnesota. Last Tuesday G.W. Bush flew to Minnesota to raise money for Michele Bachman, a candidate for the US congress. The fundraiser was held on Lake Minnetonka, 40 miles from Bachman's district and her home in Stillwater. The roads around the lake mansion where the fundraiser was held were closed, but that didn't deter Minnesotans who want to express their displeasure with the Bush administration from protesting.
Michele Bachman represents the religious right. Her family business is Christian Counseling. Her husband has a Ph.D. from Regent University (founded by Dr. "Pat" Robertson); she has a law degree from Oral Roberts University, but doesn't have the right to practice law in Minnesota. Bachmann is currently a state senator from Minnesota.
Michele Bachmann says she supports family issues and that she is a Christian. Why then does she take the following positions?
According to the Wikipedia and other sources, Michele Bachmann:
1. Opposes all legal recognition of gay relationships. She carries the torch on this issue for republicans even though it is painful to her family, including her gay stepsister.
Bachmann
fears
that if gay marriage is legalized:
"Little children will be forced to learn that homosexuality is normal and natural and perhaps they should try it." Sen Michele Bachmann, Interview with Jan Markell, Olive Tree Ministries.
2. Favors leaving nuclear attack option on the table in dealing with Iran. Is a nuclear bomb a Christian value? [
3. Opposes light rail transit and commuter rail transit
4. Opposes any minimum wage
5. Supports the teaching of intelligent design creationism in public school science classes.
6. Opposes universal healthcare.
In fact, she doesn't offer health insurance to the 30 employees of her family business or to the workers on her campaign. That's the same campaign that just raked in ½ million dollars during Bush's visit.
I guess she will use that money to buy TV ads to show her support for family values rather than practicing them. Or maybe by family values she means HER family; not yours or mine. By contrast, Patty Wetterling, Bachmann's Democratic opponent, does offer healthcare to her campaign workers.
Bachmann is well known to bloggers in Minnesota. Back in April 2005, at a rally at the state capitol in support of gay marriage, Michele Bachmann left the house session to spy on the rally participants from behind nearby bushes Look
here
for some photos.
The other remaining part of Bush's support is the influence peddlers. And that's why the Bush fundraiser was held in Wayzata at a mansion on Lake Minnetonka, 40 miles in the opposite direction from Bachmann's congressional district. Quoting an
article
in the Star Tribune by LAURA BILLINGS:
Wayzata is the top ZIP code in the state for campaign contributions to the 2006 races, according to opensecrets.org, which posts the filings to the Federal Election Commission. Denizens of the 55391 ZIP code have already donated $1,254,841 to their favorite candidates, which is almost a half million ahead of the ZIP's closest rival, 55403 in Minneapolis.

This makes Wayzata three times more generous than all of St. Cloud ($419,253) and six times more deep-pocketed than the Duluth-Superior area ($197,267).

Given this willingness among Wayzatans to open their wallets, you can see why Vice President Dick Cheney has paddled to the shores of Lake Minnetonka twice since last summer to stump for local Republicans. When you charge $4,200 to have your picture taken with patrons (the president himself will expect $5,000 for the honor today), you can be pretty confident the checks won't bounce.
And she raises the point that concerns all of us who want a government that represents its citizens.
…when the serious money in a campaign comes from people 40 miles or, let's face it, a world away from the constituents in question, you can't help wondering whom our public servants are really serving.
To add insult to injury, Bush's trip cost a small fortune in security and travel expenses. This cost is picked up by taxpayers. Because Bush gave a policy speech in Minnesota, he didn't reimburse local government for his expenses. That means we, the taxpayers, are supporting Michele Bachmann's campaign for US congress. One of the local TV stations itemized some of the expenses, but it didn't list the cost of a half dozen watercraft (Dept of Natural Resources, Coast Guard, Sheriff, etc) and their crews to be on Lake Minnetonka all day.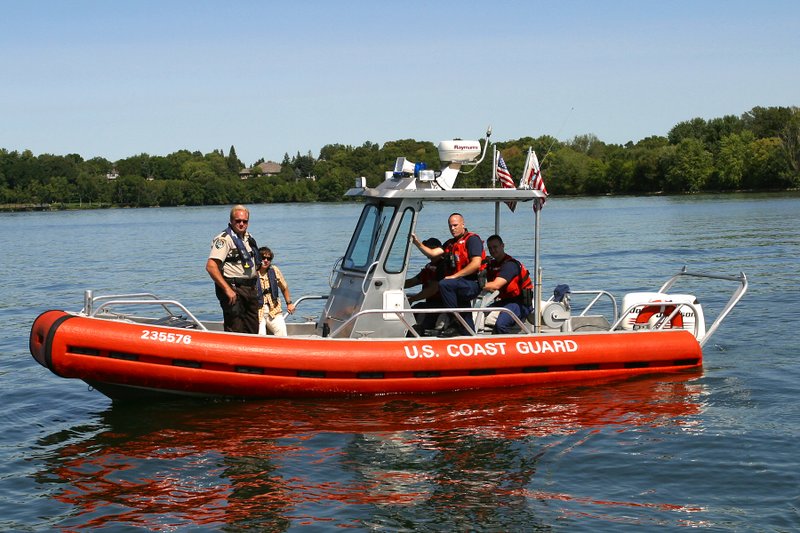 We saw them out there while we were swimming, fishing, sailing, and protesting Bush's visit and the dishonesty of his remaining supporters.