I am so sick of the president desecrating the flag. He and his followers wrap themselves in the flag and claim they are bringing freedom to the Iraqi people. This, given the results, makes me sick just to think about it. I'm not talking about the lies that led the US into Iraq; I'm talking about the results of this policy. The president claims that a war is being waged in Iraq. It isn't a war; it's a bloody occupation.
So let's look at what the president calls Iraqi freedom:

It's clear now that more than 100,000 Iraqis have died since Bush declared war and the US occupied Iraq. This was true two years ago before the start of large scale sectarian violence and renewed bombing by the US.
The US is grabbing people off the street in Europe and "rendering" them to prisons where they are tortured. Several have been released after two years and it is known that their renditions were a mistake. If this kind of activity is taking place in Europe, what is the US doing in Iraq?

Well, we know that the US is torturing people in Iraq. We know, too, that US troops are insufficiently trained and overstressed, and that this has led to US deaths and war atrocities.

Freedom? Do you call that freedom? So what's the republican controlled congress doing about it? They discussed an anti-flag desecration amendment to distract public attention from real issues. Well, I'm tired of it. I plan to barbecue this Independence day and not even think about the crimes of this administration. Below is a photo of my meal, right before it was transferred to the grill.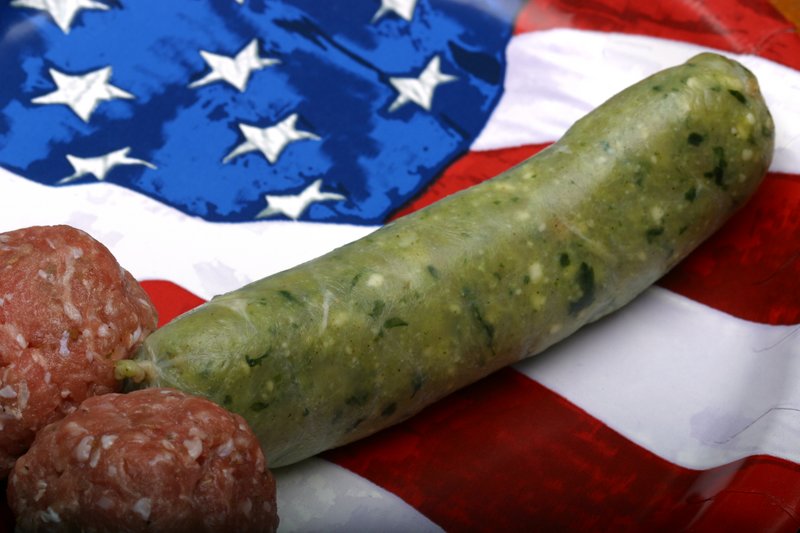 In case you are interested, the meal includes a Chicken-Feta Cheese-Spinach Bratwurst along with low-fat Turkey meatballs displayed on a American flag paper plate.
Signed, Kayakbiker (Twin Cities)