Several hundred people turned out for a rally to support Keith Ellison's campaign for US Congress (MN-05), including Minneapolis Mayor R.T. Rybak. State Representative Ellison hopes to be the first Muslim elected to the US Congress, but the right-wing smear machine is gearing up for a fight.
He currently represents an ethnically diverse and low income district in North Minneapolis, where he was a community activist before being elected to the state legislature four years ago. As part of this activism, he has appeared on stage and at some gatherings sponsored by the Nation of Islam and Louis Farrakhan, including the Million Man March. According to the Chicago Tribune he helped organize the
1995 Million Man March because he was attracted to the event's goal of making African-American men more responsible and accountable.
Ellison has recently denounced Louis Farrakhan, but his past is being brought up by critics, including Powerline and the Star Tribune. A Star Tribune editorial attacked Ellison and accused him of being a racist by association, but I have not read any accounts of racism by Ellison. He is defended by his colleagues. For example (Chicago Tribune),
Rep. Frank Hornstein, who sits next to Ellison in the Minnesota House, called him "a very gifted public servant who has a deep concern for social issues." Hornstein, who is Jewish, dismissed Ellison's ties to the Nation of Islam, saying, "I think that people do grow and evolve."
Critical articles in the Star Tribune motivated an editorial by the head of the NAACP in Minnesota.
WHY THE FOCUS ON ELLISON?

Examine all candidates

I have no problem with the media covering issues, but when the Star Tribune continues to dwell on the past of only one candidate (who happens to be black -- Keith Ellison) without doing the same for other candidates in the race for Fifth District U.S. House race, it's unfair and racist.

I have no political agenda and no personal relationship with any of the candidates. I just would appreciate constructive, balanced coverage based on issues.

Let truth speak to power.

DUANE REED, MINNEAPOLIS;
PRESIDENT, MINNEAPOLIS NAACP
What are the issues? Ellison has been a state legislator for four years and he has an impressive record. Here is a short list of his legislative accomplishments:
• He has authored and passed a bill protecting Minnesota children from the threat of lead poisoning.

• He has authored a bill to restore government aid in order to increase the number of police officers.

• He has authored a bill to construct a hydroelectric facility on the Mississippi River.

• He passed the largest increase in funding for public schools in two decades.
In all, he has authored 62 bills and has co-authored 189 bills in a Republican controlled House of Representatives.
I was impressed with his stump speech today, but before I cover its content, I want to mention a short introductory statement Download reverend_m.mp3 made by the Reverend Jerry Mcafee, the pastor at New Salem Missionary Baptist Church in North Minneapolis. He said he too was present during a meeting when racist statements were made and that he and Representative Ellison did not agree with any racist remark. This is my own analysis, now, but one thing that people have to consider is that in poor inner city neighborhoods, only a handful of persons have leadership positions in the community. When an event happens, everyone who is in these leadership positions shows up – Guilt cannot be assumed by association.
Now, let's cover the content of the stump speech Download keith_ellison.mp3 . In it, Ellison covered topics that I wish more US representatives would spend time on including peace, universal healthcare, fixing Medicare D, renewable energy, preserving voting rights, and supporting labor unions. He finished his stump speech with a call to fight the politics of exclusion and for all of us – black, white, brown, yellow – Jewish Christian and Muslim – to work together to enable the US to reach its full potential.
The short stump speech was followed by an inspiring speech by the Reverend Jesse Jackson. I've heard better ones by him, but if you haven't heard him in action -- check out the MP3 -- it will be worth your time. He tailored the speech for his Minnesota audience by including references to Wellstone and Humphrey. "If Humphrey had been elected we would have a war on poverty instead of a war on each other."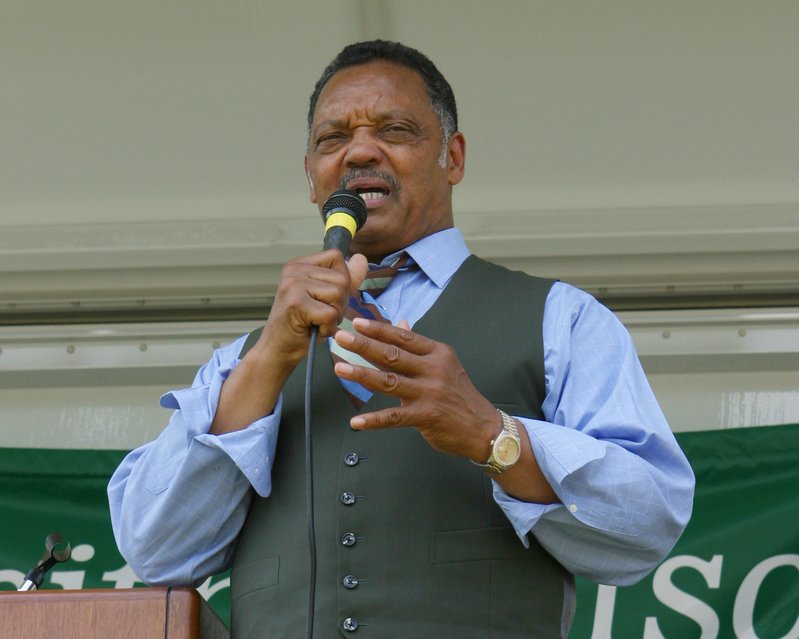 Despite being in a predominately democratic district, Ellison may have a fight on his hands. Zogby, CEO of the polling company Zogby International said (source: Chicago Tribune):
"Against the broad backdrop of a nation that, by and large, doesn't understand Islam, this in political terms is letting the opposition define you before you define yourself." … Zogby compared Muslims running for office today to African-Americans doing so in the 1920s.
I'm convinced that he can win, but nothing these days should be taken for granted. The campaign will take money and support; hopefully some will come from the progressive community on the internet.