[Attention right wingers: indented text or text appearing in quotation marks next to a reference represents citations of other writer's works]
Are the media ignoring wonderful happenings in Iraq? I know its not smiley faces over there, but just out of curiosity, I decided to search Google News to see if anyone was reporting "good news" in that country. Since the right is always bragging about how many schools that have been built during occupation, I used "schools" and "Iraq" as the keywords for my search. Two articles surfaced that matched my keywords that both reported news about Kirkuk, an oil rich city in Northern Iraq. Both articles were published on the same day, March 14th. But that's where the similarities end. These articles were as different as night and day.
The first article was published in the Blackanthem Military News and was titled "Military Transition Teams Improve Iraq."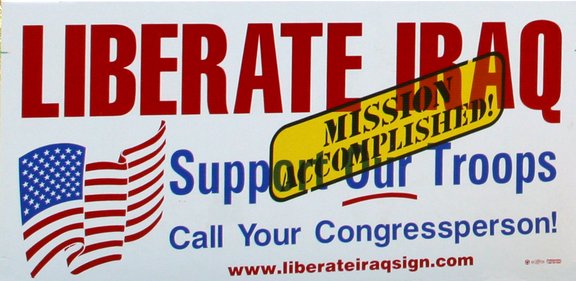 The article reports that these Military Transition Teams are doing wonderful work training the Iraqi military:
Military Transition Teams (MiTT) from the Bastogne Brigade of the 101st Airborne Division are using staff-level and individual soldier-level training exercises, meetings with local business leaders, as well as combined operations to improve the abilities of Iraqi Security Forces so they will be able to stand tall in the defense of their country and fellow citizens.
And, of course, they are working in schools:
The MiTT also took advantage of the time with these soldiers to help them build rapport in the community and improve the quality of education at the same time. The trainees visited several schools in the area handing out supplies to the children. The Iraqi Army Brigade reaped an unexpected educational benefit of their own as they were given permission to use one of the facilities for their own classes.

"We are not just training Iraqi Security Forces to defend their fellow countrymen from terrorists," stated Major Greg Bishop, spokesman for the 1st Brigade. "We are also working with community leaders and key businesses in order to build a more stable economy. A strong defense combined with a stable economy will ensure quality of life for every citizen of this country."
The article ended on another positive note, one that assures us that we are making progress in the war on terror:
The training and dedication of the Bastogne Brigade is paying off. Cordon and search missions with Iraqi Police in the Kirkuk region have resulted in the capture of more than 20 terrorists since the beginning of the month.
The second article, published by Reuters, is titled "Humanitarian situation remains critical in Kirkuk as ethnic tensions rise."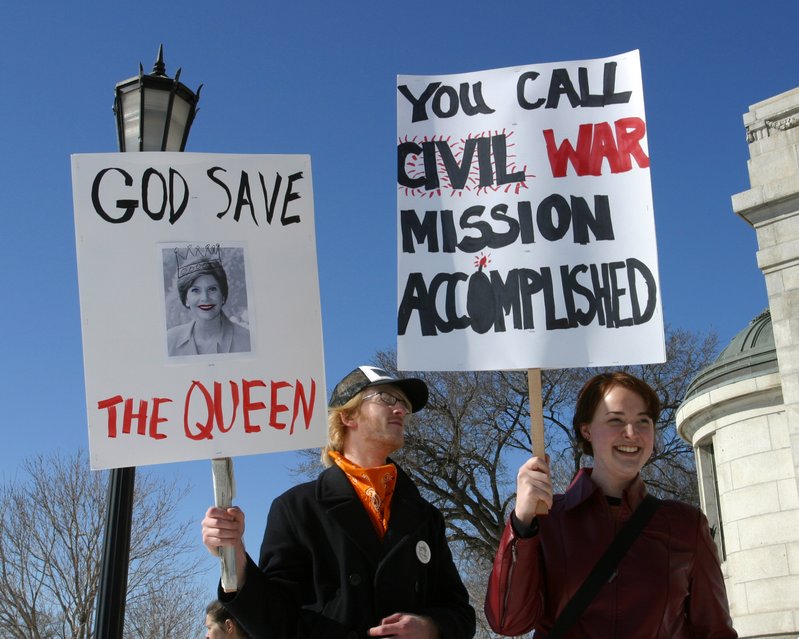 This article describes a crisis:
The oil-rich city of Kirkuk in northern Iraq has been the scene of ongoing displacement and rising ethnic tensions in the past six months, according to local officials.

"The humanitarian situation in the city is very bad and thousands of innocent people are still displaced," said Nuri al-Salihi, a spokesman for the Iraqi Red Crescent Society (IRCS). "But nothing has been done to help them because of a recent increase in sectarian violence that has delayed the work of many local NGOs."
the article estimates the number of displaced residents in Kirkuk which gives one a good idea about the magnitude of this crisis:
Ahmed Mashhdanny, a senior Kirkuk governorate official, said that more than 200,000 Kirkuk residents have been displaced since 2003 and more than 300 have been killed in ethnic fighting over land. "The return of the Kurds to the city left thousands of Arabs displaced in deteriorating conditions and has increased ethnic aggression between the two groups," he said.
You are probably wondering by now about the schools. Yes, the frickin schools – how did they get into this article?:
"Thousands of displaced people from different ethnic groups – mainly Arabs – can now be seen in improvised camps on the outskirts of Kirkuk, as well as in abandoned government buildings and schools," he said. "Kurds, Arabs and Turcomans are suffering because measures haven't been taken to secure their rights."
Reading these two articles reminded me of the Akira Kurosawa movie Rashomon , a story about a rape told by several people from different perspectives. Although each person witnessed the same event, all of the stories were quite different. One comes away believing that the truth has many facets and depends greatly on a person's bias.
Although both articles are probably accurate, the second one worrisome for several reasons. I thought Kirkuk was in the quiet northern part of the country where the situation isn't as bad as it is in Baghdad or the regions populated mainly by Sunnis, such as Fallujah. It is also bothersome that because the first ignored the crisis and simply addressed the Bush administration's goals without giving the readers an understanding about the refugee problem and the escalating sectarian violence. It appears that security is the number one problem in Kirkuk and that training the military without solving the other issues is a bad plan.
Of course, Kirkuk isn't the only place in iraq that has serious problems. I have been listening to reporters from CNN and NBC for the past few months giving us news about the deteriorating situation in Baghdad. It's unusual nowadays for western reporters to venture outside of safe zones, armed fortresses in central Baghdad. Richard Engel (NBC) says reporters often have to rely on phones to collect news. In an online video he has taped himself running on a treadmill and eating around a large table with colleagues who spend most days in small rooms with painted windows. But that doesn't guarantee their safety. The NBC bureau has been bombed twice and he has had several close calls. He also said that the situation in Iraq is WORSE than what they portray on television. Michael Holmes of CNN TV made a similar report from Baghdad back in January:
Those of us (reporters) here in the early days would certainly take precautions, but would think little about walking the streets in Baghdad and elsewhere speaking with locals, getting a first-hand look at the story we are covering.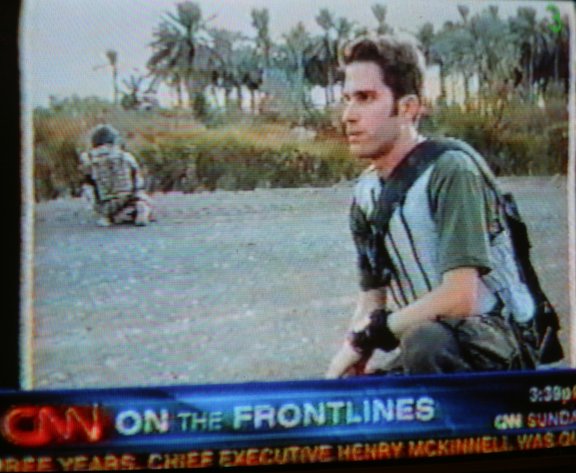 In this sitting on Saddam's famous statue before it was removed.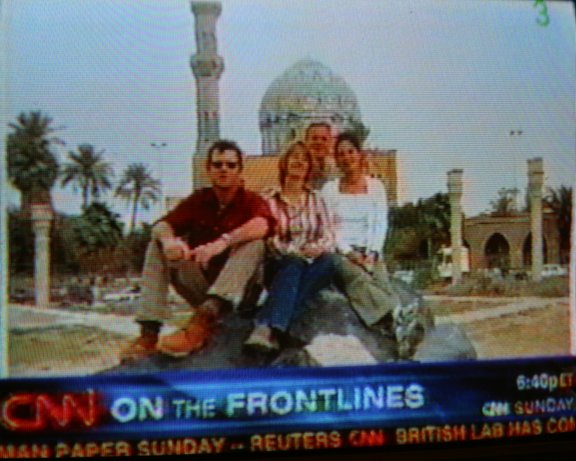 But things have really changed now. Reporting is done from within a studio (in the Green Zone?). The journalist stands in front of a white board.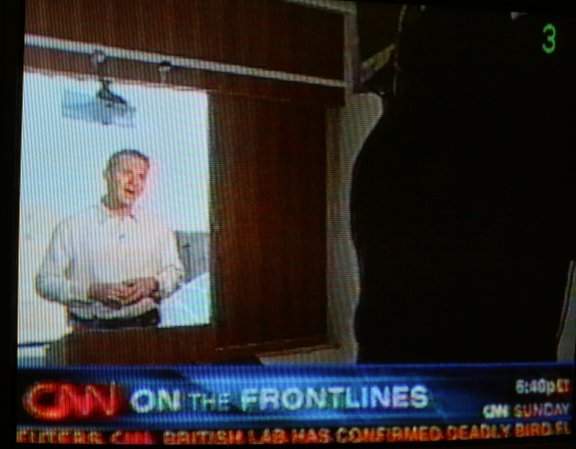 Through some trick of television, the city skyline, with an obligatory mosque, is inserted to make it look like he or she is reporting live from the scene.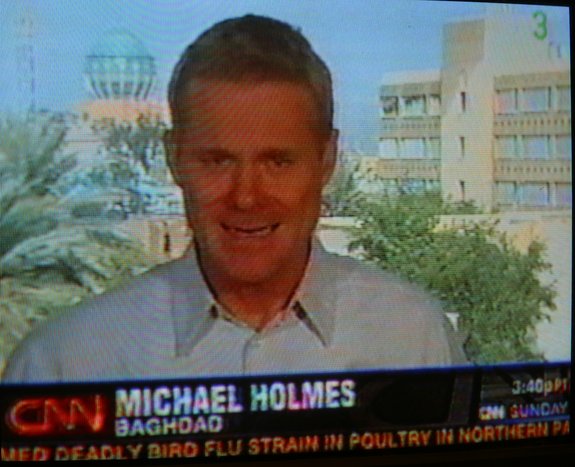 I have seen such reporting on the Daily Show; sadly, it's how the real reporting in Iraq is done most of the time now as well. This means we are forced to rely on the military and a handful of good journalists as our main source for news.
One of those good journalists is Keith Olbermann who continues to report real news. Three nights ago he shared news about a report from the US State Department and Condoleezza Rice that says that agrees with Richard Engels assessment that conditions in Iraq are WORSE than what is being reported in the news. Here is an excerpt of the transcript from the March 23 broadcast of MSNBC's Countdown with Keith Olbermann:
OLBERMANN: The report on Iraq consisted entirely of violence, "a climate of extreme violence," the transcript read, "in which people were killed for political and other reasons." The reporter emphasized "bombings, executions, killings, kidnappings, shootings, and intimidation." The chaos there was so bad, the reporter concluded, that his story "could scarcely reflect the broad dimension of the violence there." Our fifth story on the Countdown: the exact kind of biased, bad-news-only, liberal media reporting against which the Bush administration has launched its latest round of attacks? Something from The New York Times or, worse, from Aljazeera? No, those quotes were from the Bush administration itself, in the State Department's official assessment of conditions in Iraq, which suggests, in no uncertain terms, that, if anything, the news media is sugar-coating what is happening there. The study, titled "Country Reports on Human Rights Practices," was released at a news conference earlier this month, with Secretary of State Rice herself delivering the opening remarks, the 23 pages on Iraq stating unequivocally that even a highly selective inventory of the terrorist attacks in that country during the last year could barely begin to catalog all the violence.

Quote, "Bombings, executions, killings, kidnappings, shootings, and intimidation were a daily occurrence throughout all regions and sectors of society. An illustrative list of those attacks, even a highly selective one, could scarcely reflect the broad dimension of the violence," the report also stating that the attacks were being waged by any number of people, not just insurgents, for any number of reasons. Quoting again, "Former regime elements, local and foreign fighters, and terrorists waged guerilla warfare and a terrorist campaign of violence impacting every aspect of life. Killings, kidnappings, torture, and intimidation were fueled by political grievances and ethnic and religious tensions and were supported by parts of the population."