By now everyone has heard that Bob Woodruff, a major network anchor from ABC, and Doug Vogt, his cameraman, were wounded by an IED in Iraq. What you may not have known is that they were in Iraq to coincide with the President's State of the Union Address address. Woodruff wanted to see for himself what was happening up close and in person. This tragic accident did indeed provide us with incite into the current conditions in Iraq, and the picture isn't a pretty one.
We are only getting spotty news from Iraq because many parts of the country are too dangerous for reporters to investigate. In this diary, I will provide evidence that reporters are not able to do their jobs, and I will cite some articles that show us that the state of the Iraq, despite recent elections and the training of Iraqi soldiers, is deteriorating. It will be curious to hear what King George will have to say about his experiment in democracy in his SOTU address.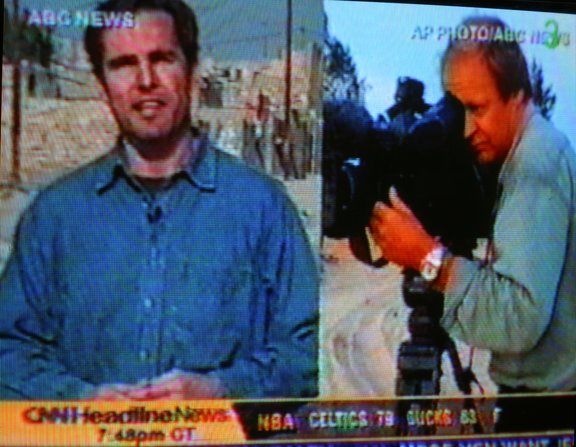 You might be wondering why Bob Woodruff was riding with Iraqi soldiers when he was injured by the IED. The only explanation that I can think of is that he hoped to demonstrate to his television audience that Iraqi troops are being trained and that the US is making progress in Iraq. US troops were nearby, and with such a high profile celebrity, I am certain that the best security possible was provided. After all, how bad would it look if a major network anchor attempting to demonstrate the competence of Iraqi troops was killed or seriously injured during this media opportunity?
It's unusual nowadays for western reporters to venture outside of the Green Zone, the armed fortress in central Baghdad that is the base for US military and some US government civilians in Iraq. CNN TV reported today that
Those of us (reporters) here in the early days would certainly take precautions, but would think little about walking the streets in Baghdad and elsewhere speaking with locals, getting a first-hand look at the story we are covering.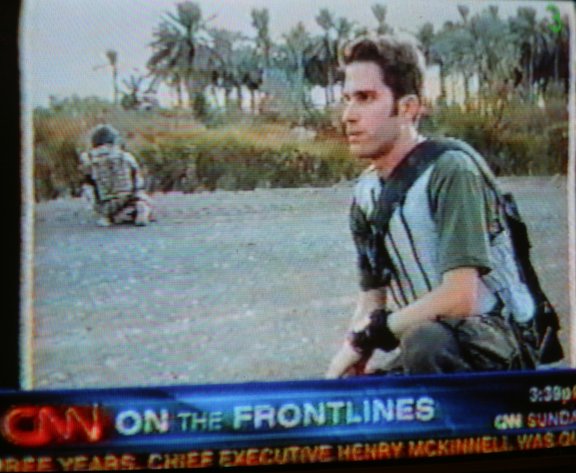 In this sitting on Saddam's famous statue before it was removed.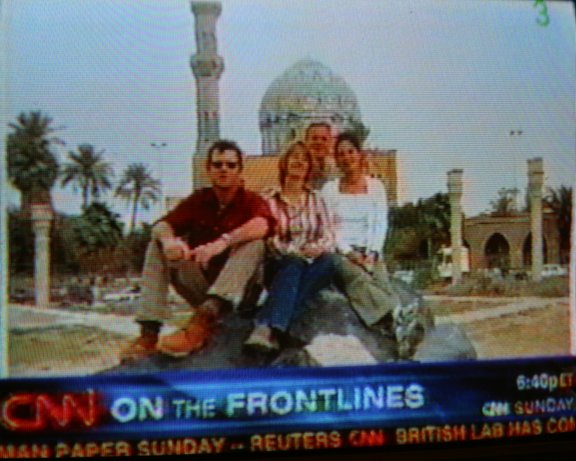 But things have really changed now. Reporting is done from within a studio (in the Green Zone?). The journalist stands in front of a white screen (shown below).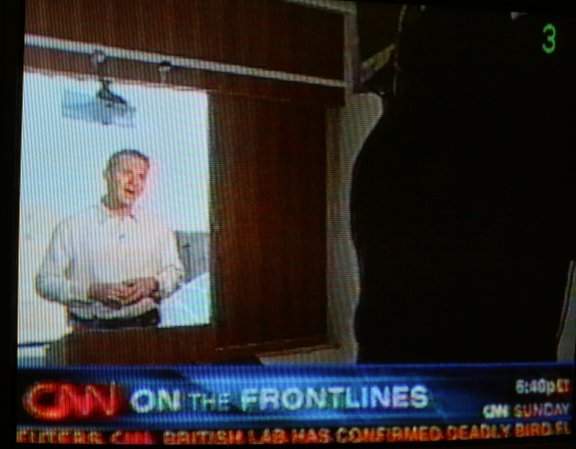 Through some trick of television, the city skyline, with an obligatory mosque, is inserted to make it look like he or she is reporting live from the scene (see the picture below).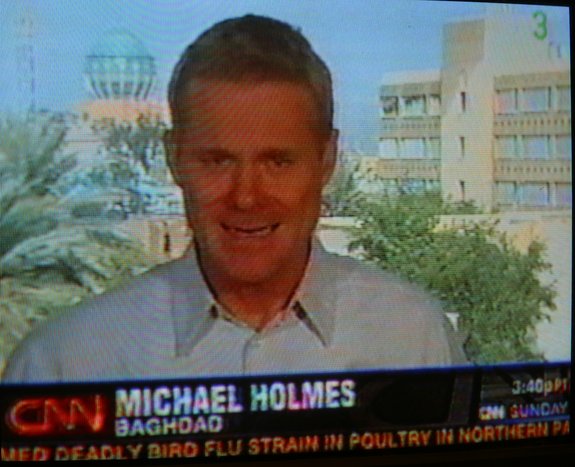 I have seen such reporting on the Daily Show; sadly, it's how the real reporting in Iraq is done most of the time now as well. This means we are forced to rely on the military as our main source for news.
What nuggets can we get from the military about the state of Iraq? We know through ABC sources of military news that (next 3 block quotes)
Today's attack that injured "World News Tonight" co-anchor Bob Woodruff and cameraman Doug Vogt was part of a surge of roadside bombings in Iraq. There were nearly 10,600 roadside bombings in 2005, nearly double the number of attacks that occurred in 2004.
We know too that the failure of the US military to secure post-Saddam Iraq made lot's of ammunition available.
The explosives for the IEDs are easy to find because Iraq stockpiled 650,000 tons of ammunition before the war.
And that the problem isn't getting any better.
Across Iraq, more than 200 IED attacks were reported last week alone. On average, that's more than 30 a day.
The recent war in Iraq has killed more than 100,000 Iraqis , 2,443 coalition soldiers , and seriously wounded thousands more.
I'm sure George W Bush will say in his state of the union address that we have a lot to be proud of in Iraq and that we should ignore all that bad news. After all, we've had free elections and we are slowly but surely training the Iraqi army to handle their own security.
What Bush won't tell you is that the unemployment rate in Iraq is 40% or higher. He also won't tell you that Iraqi oil , the economic engine for Iraq, is at its lowest level of production since the war began. He also won't mention the US government audit that showed that
Huge sums of money intended for IRAQ's reconstruction were stashed in filing cabinets, paid without receipts, and gambled away between 2003 and 2004...
Yes, conditions in Iraq are horrible and 60% of Americans, according to a new poll by Time magazine, disagree with Bush's handling of the Iraq war. The all-voluntary Army is stretched thin, and 50,000 of its troops are being forced to remain in the military after their contracts have ended.
Bob Woodruff didn't have to suffer a serious injury to show us that Iraq is a disaster, but this tragic accident did remind us that the State of the Union isn't what it should be.
To date, we have trained more than 200,000 Iraqi security forces.